As 2022 comes to an end, let us look back at our group's highlights and achievements in the last year. Special thanks to all of you - our authors, editors, peer reviewers, and consumers. We are grateful for all your support!

From our co-ordinating editors Cindy Farquhar and Madelon van Wely

A big thank you to all the authors and editors for their Cochrane work in 2022. There have been many challenges for those working in health and research and we appreciate your efforts. Last year we have focussed more on the best evidence, with an eye for problematic trials. This has been labour-intensive and still needs a lot of work. We thank all who helped us to improve the quality of our reviews. Other challenges are ahead for Cochrane as we have a major restructure. We hope to tell you more about the implications of that in the New Year. Within the editorial bases in Auckland and Amsterdam there have been some challenges with changes in editorial software and in methods.
A very big thank you to the editorial staff in Auckland (Helen Nagels, Angela Beros, Marian Showell and Vanessa Jordan) and in Amsterdam (Elena Kostova). We hope that you have a restful time over the holiday period.  
Merry Xmas and a Happy New Year!
Cochrane Colloquium: London, UK: 4-6 September 2023
Mark your calendars! Cochrane has announced the dates for the Colloquium in 2023. The Colloquium is hosted by Cochrane UK and will take place in London. Registration will open in early 2023. More information is available on the dedicated website for Colloquium 2023.
Changes to our editorial board
Our long-serving methodological editor Anne Lethaby recently decided to step down as an editor with our group. Her retirement was celebrated at a dinner hosted by Cindy; we are sad to see her go after many years of service but glad she is continuing as a review author. 
We would like to thank Dr Rik van Eekelen for his contribution and support as a statistical editor. Rik has also stepped down as an editor of the group.
We welcomed 2 new editors in 2022: they are Dr Laurentiu Craciunas and Dr Pedro Melo.
Laurentiu is a Subspecialty Trainee in Reproductive Medicine at Newcastle Fertility Centre in the UK. He has undertaken an MSc in Genomic Medicine and a PhD in endometrial receptivity with a focus on recurrent miscarriage. As a Senior Deputy of ESHRE's Special Interest Group Early Pregnancy and Implantation, Laurentiu strives to influence policies towards evidence-based medicine. You can find him on Twitter at @LaurCraciunas.
Pedro specialises in Obstetrics and Gynaecology in Oxford, UK, having completed his undergraduate medical training in Lisbon and Paris. Pedro is passionate about the role of research in bringing about improvement and innovation into modern clinical practice, and is currently finishing a PhD in reproductive medicine at the University of Birmingham.

Impact factor
The 2021 Impact Factor for the Cochrane Library is 11.874. The 2021 Impact Factor for the Gynaecology and Fertility Group has increased to 8.510!
Published reviews and updates
Day 5 versus day 3 embryo biopsy for preimplantation genetic testing for monogenic/single gene defects
 
Follicular flushing during oocyte retrieval in assisted reproductive techniques
 
Hormone therapy for uterine and endometrial development in women with premature ovarian insufficiency

Aromatase inhibitors (letrozole) for ovulation induction in infertile women with polycystic ovary syndrome



Luteal phase support for women trying to conceive by intrauterine insemination or sexual intercourse



Peri‐implantation glucocorticoid administration for assisted reproductive technology cycles

Interventions for heavy menstrual bleeding; overview of Cochrane reviews and network meta‐analysis

Antioxidants for male subfertility



Cleavage‐stage versus blastocyst‐stage embryo transfer in assisted reproductive technology

Endometrial injury for pregnancy following sexual intercourse or intrauterine insemination
(amendment)

New protocols
Visual tubal patency tests for tubal occlusion and hydrosalpinx
Knowledge translation 

In 2022, we published 3 blogshots and 2 podcasts. Our #EndometriosisAwarenessMonth dedicated page was the second most-visited page on our website (after the COVID-19 page) with more than 2400 visits and the campaign on Twitter received more than 51,000 impressions!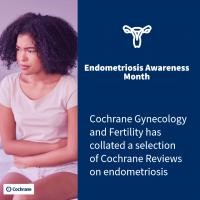 Our #PCOSAwarenessMonth campaign on Twitter received 19,400 views.







In 2022, we were also very active on Instagram. We currently have 580 followers, and our posts were seen more than 12,000 times!
Evidently Cochrane blogs 
Evidently Cochrane aims to make Cochrane evidence really accessible, and to encourage discussion about it, through blogs that usually feature Cochrane reviews on a health topic.

Male infertility: what is an important outcome?



Heavy periods: evidence to help you weigh up treatment options



Timed intercourse: can it help you get pregnant?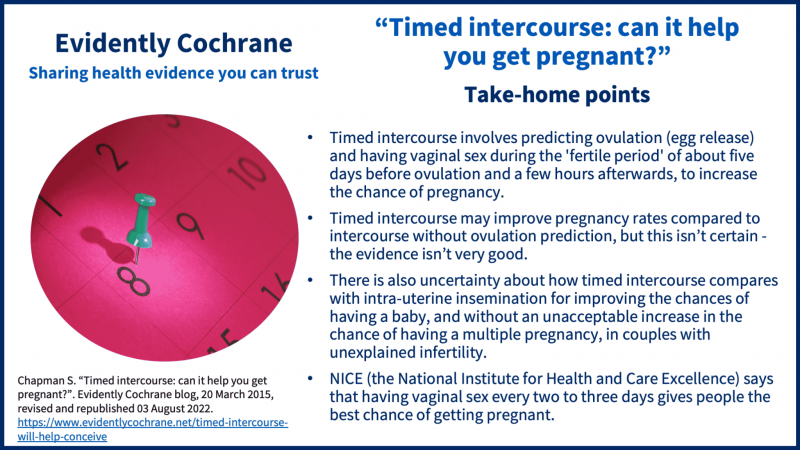 Treatments for vaginal thrush (STI group)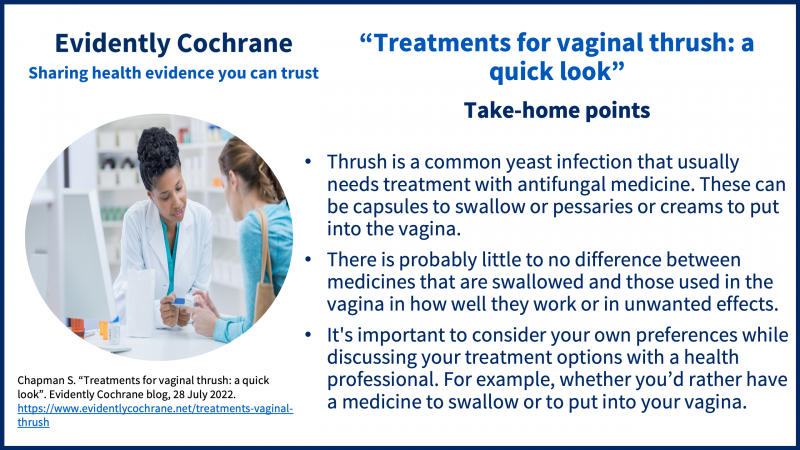 Editorial matters

Guidance document for Gynaecology & Fertility Group authors
We now have 2 versions of our guidance documents, depending on whether you are writing a new protocol or review, using Risk of bias 2 or updating an existing review and continuing to use the original risk of bias assessment tool RoB 1. You can find the most recent CGF guidance documents on our Resources page.  If you have any questions or comments, please get in touch with Helen (h.nagels@auckland.ac.nz) or Elena (e.b.kostova@amsterdamumc.nl).
We encourage all authors to implement the Core Outcomes relevant to their reviews. Not all trials use the core outcome definitions. For example, live birth may be reported as > 24 weeks rather than > 20 weeks. For such trials, authors should still extract the data and in their methods section add "as reported by study authors".

Editorial Manager
In 2022, we transferred all our active titles to Cochrane's new editorial system Editorial Manager.  The dedicated page "Information for authors" contains detailed instructions on how to submit a review and how to navigate the system. If you have any questions get in touch with us or email support@cochrane.org.

RevMan Web and RevMan 5
Cochrane has announced the retirement of the desktop version of RevMan - RevMan 5 - in 2023. From April 25, 2023, it will no longer be possible to check Cochrane reviews in or out using RevMan 5, and will no longer be possible to download RevMan 5. All Cochrane reviews will be developed using RevMan Web. Full support for DTA reviews in RevMan Web will be available by April 25, 2023. Find out more about the planned retirement of RevMan 5 and contact support support@cochrane.org if you have any questions.

Cochrane training
It is essential that all new Cochrane authors complete the online course Cochrane Interactive Learning: Conducting an Intervention Review in case they have not completed a Cochrane course on systematic reviews previously (ie a face-to-face course). 
Visitors to the Cochrane office in Auckland
Editor Katie Stocking
Recently, I had the privilege of visiting my colleagues based at the University of Auckland as part of a research visit for my NIHR Doctoral Fellowship, where I was able to spend time in the Cochrane Gynaecology and Fertility offices. After 5 years of working for Cochrane Gynaecology and Fertility as a peer reviewer and more recently a Statistical Editor, it was so good to finally meet the team face-to-face and work alongside them. During my time at the university, I undertook a Network Meta-Analysis of interventions for endometriosis-associated pain and quality of life, including performing data extraction and analysis. I also supported multiple review authors, answering their statistical and methodological queries.


My research visit had the added benefit of being able to see some of the wonderful country of New Zealand. The entire team in Auckland welcomed me with open arms and introduced me to their amazing home. To mention a few highlights: Cindy took me walking along the beautiful Coromandel coast; Helen showed me the black sand beaches and gannet colonies on the west coast and Angela kept me entertained with impromptu performances in the museum, good food and an excellent pub quiz (that would rival the UK pub quizzes!). I climbed the volcano Rangitoto, visited Hobbiton and the geysers of Rotorua, and flew to the picturesque Queenstown.

It was a wonderful visit, both professionally and personally, and hopefully it won't be too long until we meet again.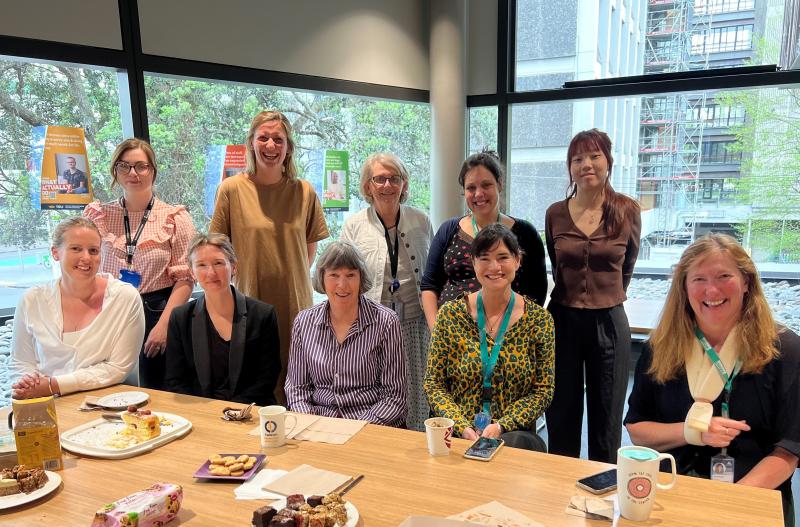 We also welcomed our Belgian author Tessy Boedt  for morning tea in November.
COVID-19 Fertility and Pregnancy

We continue to update our Excel sheet with data extracted from all published articles on pregnancy and neonatal outcomes in women with a SARS-CoV-2 infection. Our COVID-19 dedicated page received 8000 visits in 2022 and remains among the top 3 ranked pages in Google. Madelon and Elena still participate in the COVID-19 in Pregnancy (PregCOV-19LSR) consortium, a collaboration with the University of Birmingham and WHO. On March 16, the living systematic review "SARS-CoV-2 positivity in offspring and timing of mother-to-child transmission" was published in the BMJ. The review included 472 studies (28 952 mothers, 18 237 babies). Evidence suggested confirmed vertical transmission of SARS-CoV-2, although this is likely to be rare. Severity of maternal COVID-19 appears to be associated with SARS-CoV-2 positivity in offspring. An update is currently in preparation. The living review "COVID-19 in pregnant women: a living systematic review and meta-analysis on the risk and prevalence of pregnancy loss" was recently submitted.
Cochrane Sexually Transmitted Infections Group now based at Amsterdam UMC, home of CGF's satellite
We are very excited to announce that the Cochrane Gynaecology and Fertility Satellite is now also managing the Sexually Transmitted Infections Cochrane Review Group. The STI group is led by co-ordinating editor Madelon van Wely with managing editor Elena Kostova and it is based at the Center for Reproductive Medicine, Amsterdam UMC, at the University of Amsterdam in the Netherlands.
We would like to take this opportunity to thank Prof Hernando Gaitán and Olga Gomez for all their hard work and dedication to the STI group over the years, and for giving us this great opportunity.
If you would like to join the STI group, or if you have any comments or suggestions, please get in touch with Madelon (m.vanwely@amsterdamumc.nl) or Elena (e.b.kostova@amsterdamumc.nl).
Follow us on social media
CGF Group Twitter @CochraneCGF
CGF Group Instagram @gynaecology_fertility
STI Group Twitter @sticochrane