In women with unexplained subfertility or those seeking advanced fertility treatment such as IVF, it has been suggested that performing a hysteroscopy (visualisation of the inside of the womb, using a telescope) may help improve success. Hysteroscopy could reveal abnormalities in the womb that may not be detected by routine ultrasound.  Our latest Cochrane review includes 11 trials comparing screening hysteroscopy to no hysteroscopy in women with unexplained subfertility trying to conceive spontaneously (1 trial; 200 women) and in women undergoing IVF (10 trials; 3750 women). Low-quality evidence suggests that in women undergoing IVF, performing a screening hysteroscopy before IVF may increase live birth and clinical pregnancy rates. For women at a typical clinic with a 22% live birth rate, performing a screening hysteroscopy would be expected to result in live birth rates between 25% and 32%. However, pooled results from the only two trials with a low risk of bias did not show a benefit of screening hysteroscopy before IVF.
There is insufficient data to draw conclusions about the safety of screening hysteroscopy.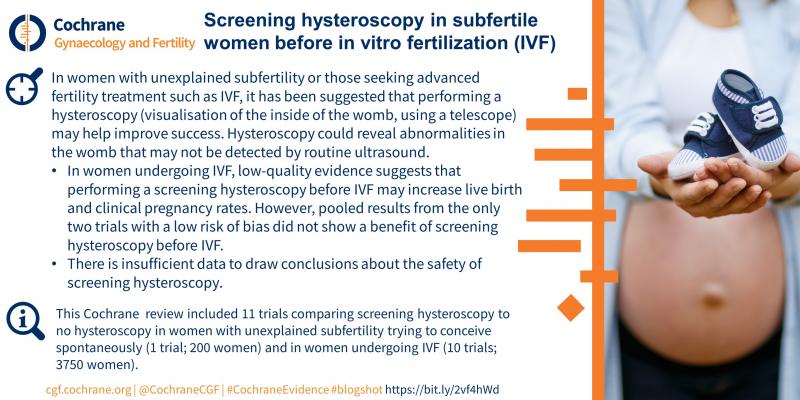 Read the full review on the Cochrane Library.  Visit our Blogshot library.